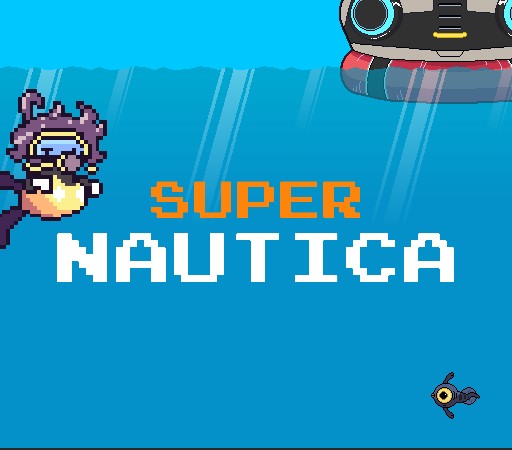 Super Nautica
Super Nautica is our entry for the Retrojam 2021. It does not use the jams optional theme 'side effects'.
This game redesigns the gameplay of the indie game Subnautica as if it came out for the Super Nintendo Entertainment System.
You crashlanded in a foreign, alien ocean and only your lifepod saved you. You need to explore the strange lagoon you are trapped in, to find a way out.
Gather Resources, Build, Craft Upgrades, Survive!

We tried to stick to the limitations of the SNES as much as we could.
Dev Team:
Moritz Biederbick - Game Design, Coding
Les-Lee Dams - Coding
Mario Martínez - 2D Art
Gidon Wolff - Music, Sound Design
Controls:
Gamepad (XBOX Layout / Keyboard):

Movement: D-Pad (WASD)
Select/Interact: A (Space, Enter in Menus)
Cancel/Exit: B (Escape)
Use Skill: X (Left Shift)
Swap Skill: Y (Tab)
Install instructions
Thanks for downloading Super Nautica. Simply extract the zip-Folder and run the 'Super Nautica.exe'.
Good Luck, Have Fun!
Comments
Log in with itch.io to leave a comment.
Looks like a mix between Subnautica and Terraria, but it wont let me download it
Really fun take on the game! My only complaint is the keyboard controls. IMO, the standard arrow keys and z, x would have been better. Great job though!
Yo really loved the concept. Good game.
controls are extremely unresponsive.
Hey, thanks for your comment! A little bit of unresponsive-ness is part of the game, but it should not be as extreme as you describe it.

What Platform are you using? We have heard about some issues with the webGL-Build on MacOS?
Nice short game, bit clunky before the first upgrades. Loved the Peepers even if they are more aggressive here
Glad you liked it and thanks for the feedback!

We thought an SNES-era game should have some overly aggressive fish :D